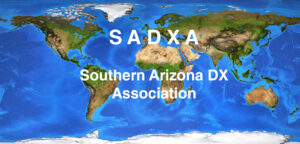 Next meeting: Thursday, February 17, 2022, 7:00 PM MST – details to follow
Upcoming Memorial Gathering for John Slusser, WD7F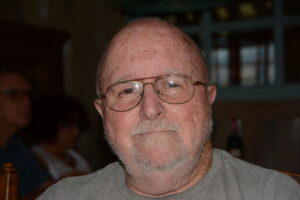 SADXA joins the family of John Slusser, WD7F, in mourning his death in December 2021. A memorial gathering will be held on Sunday, February 13 between 1 and 6 PM at the VFW near the corner of Broadway and Old Spanish Trail (address: 8424 E. Old Spanish Trail). A discussion on John will start around 2 PM followed by food afterward. Please contact Bruce Betterley, WA1BZQ, if you plan to attend, so we can give John's wife accurate numbers for the catering. Bruce may be contacted at [email protected] or (520) 235-4678.
John was an active member of SADXA as well as other amateur radio organizations in Tucson, and he maintained our web page for many years. We will greatly miss him.
—————————————-
Notes from January 20 Meeting from our new Secretary/Treasurer, Richard Schmidt::
Our meeting at Cattletown was a great success. Counting those who attended in person and our ZOOMIES we had about 30 in all. We held our annual meeting with an election for club officers. All three candidates were elected by unanimous voice vote. Their names and call signs will soon appear on our new club website. They are good on QRZ. Our thanks was expressed to Elaine for the good job she is doing on our web page. It is now up and running.
For our evening program we had a group whisper. Actually, it was a very informative presentation by Curt Laumann K7ZOO on WSPR – an amazing operating tool you will come to love. WSPR is the acronym for WEAK SIGNAL PROPAGATION REPORTER. Summarizing, there are automatic receiving stations all around our 50 states and elsewhere on our planet. When they hear your signal they immediately send a message onto the internet reporting you. On your computer you have the WSPR software and you can see exactly where you are heard. Here is what I saw when Curt hooked me up on WSPR: it was during the day on 20 meters. His WSPR transmitter was attached to my multi-band doublet up 30 feet. He waited about 30 minutes to receive something like 80 reports and then we fired up the software. My signal was basically saturating the lower 48 states with one long finger stretching all the way to Australia. It was an AMAZING display.
Is there one of you willing to take on the job of Club Photographer? Tell Alan. It was great seeing the pictures of those who attended our monthly meetings. Yes, we miss him.
If you are not on QRZ please consider creating a page there. Your page is one way we can get to know you and you us.
SADXA is based in Tucson, Arizona, USA. Any amateur radio operator interested in DX is welcome to join us! For information on membership and dues, please contact our Secretary/Treasurer, Richard Schmidt K7NSW. His contact information is current on QRZ.com.