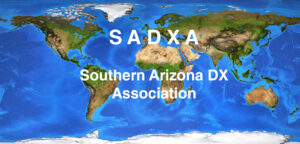 Next meeting: Thursday, May 19, 2022, 6:30 PM MST 
Cattletown Steakhouse and Saloon, 3141 E. Drexel Road, Tucson, + Zoom
If you are joining us in person, we will gather around 5 PM for dinner. The Zoom connection will be active around 6:15 PM, and the business meeting/program will begin around 6:30 PM. Please contact Alan Komenski if you have not received an invitation.
Our topic will be posted soon. Hope to see you there! If you attend in person, and have a camera available, grab some photos of the folks in attendance. Your less-than-up-to-speed webmistress has finally figured out how to post photos – scroll to the bottom of the page and click on the Member Gallery tab.
—————————————-
SADXA is based in Tucson, Arizona, USA. Any amateur radio operator interested in DX is welcome to join us! For information on membership and dues, please contact our Secretary/Treasurer, Richard Schmidt K7NSW. His contact information is current on QRZ.com.