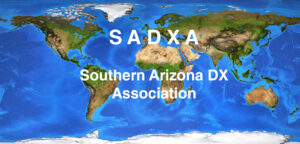 Next meeting: Thursday, November 17, 2022, 6:30 PM MST (5:00 if you are joining us for dinner)
We will again meet at The Canyon's Crown, 6958 E. Tanque Verde Rd., Tucson, plus Zoom connection.  If you are joining us in person, we will gather around 5 PM for dinner. Our speaker will be Kimball Williams, N8FNC.
A big THANK YOU to Dennis Dismachek and Carl Foster, who are now club President and VP for the remainder of the year. The two were voted in during our special election in the October meeting.
If you missed the meeting, a recording is available here:
https://us06web.zoom.us/rec/share/EKZE4o5qcksklfg01r2vUchW9NDA7I5Rf77GsVlmhNlInSP1CwYDID6mfhFb0hMB.iPJCxOKZcGKHq2v3
Passcode: UQ37!qZ+
The minutes for our October meeting are also available in PDF form: https://sadxa.org/wp-content/uploads/2022/11/MINUTES-20-OCT-2022-SADXA-MONTHLY-MEETING.pdf
SAVE THE DATE: Our holiday party will be held on Saturday, December 10, at Cattle Town Steakhouse, at 5:00 PM. We will have a white elephant gift exchange again. 
—————————————-
SADXA is based in Tucson, Arizona, USA. Any amateur radio operator interested in DX is welcome to join us! For information on membership and dues, please contact our Secretary/Treasurer, Richard Schmidt K7NSW. His contact information is current on QRZ.com.