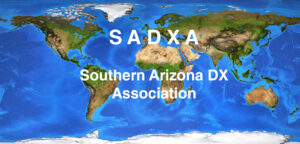 HOLIDAY PARTY!
Our holiday party will take place on Thursday, December 21, at Cattle Town Steakhouse on Drexel Road. The party will start at 5 PM. We will have a White Elephant gift exchange as usual; if you want to participate, please bring a wrapped gift. Please mark your gift as being appropriate for a ham or non-ham. We look forward to seeing you there! 
We recently received a thank-you letter from the Northern California DX Foundation:
"Please accept our sincere thanks for your organization's generous contribution of $500 to the Northern California DX Foundation. Please relay our thanks to your members.
"While we are proud of our accomplishments, we know the grants we give to major DX operations could only happen with the support you and many others provide to us yearly."
NCDXF is a 501 (C) 3 recognized organization.
————————————————
If you have not yet joined Groups.io, which makes it easier to communicate with our members, please do so.  Our members are posting DX spots as well as general news. Join us here: https://groups.io/g/SADXA
Some of you have been asking for a copy of the club's constitution. You can find it here: Club Constitution
Get the daily sunspot number along with other cool space weather info here: https://spaceweather.com
Looking to kill some time? Check out the DXZone website: https://dxzone.com
For an updated list of upcoming DXpeditions, visit https://www.ng3k.com/misc/adxo.html
—————————————-
SADXA is based in Tucson, Arizona, USA. Any amateur radio operator interested in DX is welcome to join us! For information on membership and dues, please contact our Secretary/Treasurer, Dick Jones W0PZD. His contact information is current on QRZ.com.
Club officers for 2023: Dennis Dismachek N6ITY, President; Paul Cowger W9PDC, Vice President; Dick Jones W0PZD, Secretary/Treasurer. QSL Manager for WS7DX: Ron Jones K7RJ