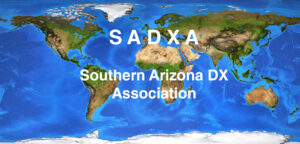 Next meeting: Thursday, June 16, 2022, 6:30 PM MST 
Cattletown Steakhouse and Saloon, 3141 E. Drexel Road, Tucson, + Zoom
If you are joining us in person, we will gather around 5 PM for dinner. The Zoom connection will be active around 6:15 PM, and the business meeting/program will begin around 6:30 PM. Email invitations with the Zoom link have been sent; please contact Alan Komenski if you have not received an invitation.
Our speaker this month is Tom Fagan, K7DF, with a very interesting presentation on Lightning and Grounding. Tom shows how lightning is created, what to look for and be concerned about. His presentation also covers the proper way to ground your station to protect it from lightning. Secondary effects of a properly grounded station are reduced ESD effects, lower received noise and better electrical safety. 
We hope to see you in-person or online!
—————————————-
SADXA is based in Tucson, Arizona, USA. Any amateur radio operator interested in DX is welcome to join us! For information on membership and dues, please contact our Secretary/Treasurer, Richard Schmidt K7NSW. His contact information is current on QRZ.com.