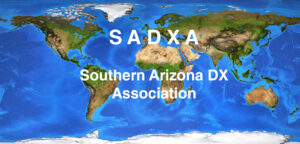 Next meeting: Thursday, October 20, 2022, 6:30 PM MST (5:00 if you are joining us for dinner)
New Location: The Canyon's Crown, 6958 E. Tanque Verde Rd., Tucson, plus Zoom connection. It's another location experiment and we hope you can join us in person. This restaurant has a good menu and reasonable prices. If you are joining us in person, we will gather around 5 PM for dinner. There are two important reasons to attend either in person or online:
Our speaker this month is Tim Duffy of DX Engineering, who will be joining us via Zoom. If you're not able to join us in person, we hope you will be there online. The Zoom connection will be active around 6:15 PM, and the business meeting/program will begin around 6:30 PM. Mike Casey will send out invitations a few days prior to the meeting.

MANDATORY SPECIAL BALLOT

By reason of the passing of our dear friend and Club President, Alan Komenski AC2K, the SADXA Club Constitution requires the administration of a SPECIAL BALLOT to elect a new President to serve the balance of Alan's term of office.

The applicable parts of the Club Constitution read as follows:

ARTICLE II: OFFICERS – section 4: Vacancies occurring between elections must be filled by special ballot at the first regular meeting after the resignation or withdrawal of an officer is announced.

ARTICLE IV: MEETINGS – The By-Laws shall provide for regular and special meetings. At such meetings, a quorum for the transaction of business shall consist of one-fourth (1/4) of the total membership in good standing,

SADXA BY-LAWS Number 2: MEETINGS – Regular meetings shall be held each month at a place and time to be determined by the membership of the club.

THIS NOTICE SERVES AS THE ANNOUNCEMENT OF THE WITHDRAWAL OF PRESIDENT ALAN KOMENSKI BY REASIN OF HIS PASSING.

 This NOTICE was prepared and published by me, Richard Schmidt K7NSW SADXA Treasurer/Secretary, by direction of Dennis Dismachek N6ITY SADXA Vice-President acting as Interim SADXA Club President pursuant to SADXA Club Constitution Article III Section 2: The Vice-President shall assume all duties of the President in the absence of the latter.

For your information, as of 23 September 2022 SADXA Club membership consists of 24 members in good standing. Good standing means these members have paid their dues for year 2022.
SAVE THE DATE: Our holiday party will be held on Saturday, December 10, at Cattle Town Steakhouse. We will have a white elephant gift exchange again. More details as they become available!
—————————————-
SADXA is based in Tucson, Arizona, USA. Any amateur radio operator interested in DX is welcome to join us! For information on membership and dues, please contact our Secretary/Treasurer, Richard Schmidt K7NSW. His contact information is current on QRZ.com.