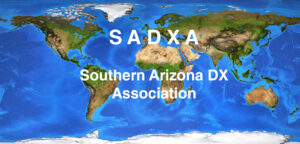 NEXT MEETING:
Our March meeting will be held on Thursday, 3/16, at Cattle Town Steakhouse on Drexel Road. The meeting will start around 6:30 PM. If you want to join us for dinner before the meeting, plan to arrive around 5 PM. We meet in a back room at the restaurant.
This month's meeting will feature a video on radiation takeoff angles followed by a group discussion.
————————————————
We have joined Groups.io which will make it easier to communicate with our members. Join us here: https://groups.io/g/SADXA
Some of you have been asking for a copy of the club's constitution. You can find it here: Club Constitution
Get the daily sunspot number along with other cool space weather info here: https://spaceweather.com
Looking to kill some time? Check out the DXZone website: https://dxzone.com
For an updated list of upcoming DXpeditions, visit https://www.ng3k.com/misc/adxo.html
—————————————-
SADXA is based in Tucson, Arizona, USA. Any amateur radio operator interested in DX is welcome to join us! For information on membership and dues, please contact our Secretary/Treasurer, Dick Jones W0PZD. His contact information is current on QRZ.com.
Club officers for 2023: Dennis Dismachek N6ITY, President; Paul Cowger W9PDC, Vice President; Dick Jones W0PZD, Secretary/Treasurer.